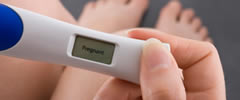 Fertility and Infertility
Professional Resource Brief
American College of Obstetricians and Gynecologists (ACOG). Patient Education FAQs. Fact sheets in a question-and-answer format about evaluating infertility and treating infertility.


American Fertility Association (AFA). Information and support for women and men dealing with infertility. Topics include infertility causes and treatments; adoption; third-party reproduction; lesbian, gay, bisexual, and transgender family building; and preventing infertility.


American Society for Reproductive Medicine (ASRM). Educational tools, practice guidelines, patient information, ethics committee reports and statements, and research news on reproductive health topics that include fertility preservation, recurrent pregnancy loss, infertility, assisted reproductive technology (ART), and state infertility health insurance laws.


American Urological Association Foundation (AUAF): Male Infertility. Information about the causes, diagnosis, and treatment of male infertility.


Census Bureau: Fertility. Data tables about the fertility of American women and men.


Centers for Disease Control and Prevention (CDC).

Division of Reproductive Health. Information about infertility and about CDC's efforts to develop a national action plan for prevention, detection, and management of infertility. Also presents reports, data, video clips, and fact sheets about assisted reproductive technology (ART), including reports about ART success rates and resources about preparing for pregnancy and infertility treatment.

National Center for Health Statistics (NCHS). National data and statistics about fertility and infertility, including


RESOLVE: The National Infertility Association. Information for people experiencing infertility on topics that include diagnosis, management, and family-building options. Also presents online infertility support communities and directories for professional services by specialty (e.g., fertility consultants), support groups, and local RESOLVE helplines.

Related MCH Digital Library Resources
---
Fertility and Infertility: Resource Brief. (January 2012). (Updated: December 2014).

Author: Susan Brune Lorenzo, M.L.S., MCH Digital Library
Reviewers: Olivia Pickett, M.A., M.L.S., MCH Digital Library
Editor: Ruth Barzel, M.A., MCH Digital Library.