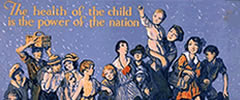 Children's Bureau Publications
The U.S. Children's Bureau was established in 1912 with this charge: "The … bureau shall investigate and report … upon all matters pertaining to the welfare of children and child life among all classes of our people, and shall especially investigate the questions of infant mortality, the birth rate, orphanage, juvenile courts, desertion, dangerous occupations, accidents and diseases of children, employment, [and] legislation affecting children in the several States and Territories."
The documents below have been digitized from a collection of U.S. Children's Bureau publications from 1912 to 1969 in the MCH Digital Library, Georgetown University. In addition, selected documents that discuss the history of the Children's Bureau are included, and links are provided to Children's Bureau documents from the period that have been digitized by other libraries.
The digitization project includes approximately 450 documents.
---
History of the Children's Bureau
Children's Bureau Brochures and Booklets for Parents
Children's Bureau Periodicals and Serials
Children's Bureau Publications
1912 – 1919
1920 – 1929
1930 – 1939
1940 – 1949
1950 – 1959
1960 – 1969
1970 – 1979
1980 – 1989
1997