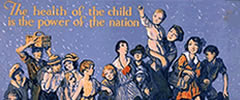 75th Anniversary of Title V
The MCH Digital Library is happy to share in the 75th Anniversary of Title V of the Social Security Act by providing access to unique historical documents, new and emerging MCH literature, and podcasts featuring some past and current leaders in the field.
Wisdom from the Field Podcasts
Legacy of a Leader Before retiring as the Associate Administrator for Maternal and Child Health at the Health Resources and Services Administration on July 29, 2011, Dr. Peter van Dyck offered three gifts to the MCH Community, three videotaped presentations: (1) Career Choices: Public Service Pathways; (2) Maternal and Child Health: History to Remember; and (3) Leadership Lessons: Making a Difference
The Life and Legacy of Martha May Eliot (University of Illinois at Chicago, MCH Program)
Montage of MCH Leaders (Kay Johnson, CityMatCH Conference, 2003)
Other Resources
MCH Timeline: History, Legacy and Resources for Education and Practice and MCH History Slides PowerPoint (MCHB)
From the MCH Library Collection
The MCH History Gateway includes:
Materials in the MCH Library
Special Collections

Records of the Children's Bureau
The William McConway Hiscock EPSDT Collection
The Healthy Start Collection Database

Final reports from MCHB grantees
Legislation and Program Data
Other 75th Anniversary Celebrations
Activities related to the 75th Anniversary of Title V occurred throughout 2010. Here are some of interest:
Dedication of Dr. Vince Hutchins collection at the Johns Hopkins University (audio files; requires the latest version of RealPlayer to access):
A Celebration of National Commitment to Women, Children and Families — Title V at 75 and Tribute to Dr. Vince Hutchins. Luncheon and Seminar Program, October 22, 2010.
MCH Library's IT Director John T. Richards receives the Young Leadership in Maternal and Child Health award, October 20th, 2010.